Wholesome snacks at hand!
Have fun with the Kids in the Kitchen and create delicious, healthy food together all holiday long - from wholesome breakfast pancakes to scrumptious, healthy cupcakes.
Minimal pantry ingredients are all that is needed to bake up a storm!
SHOP NOW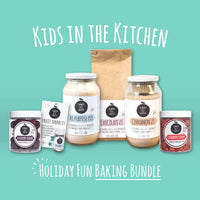 Coming Soon!
Healthy & Whole is a brand new snack for healthy happy
tummies. Perfect for lunchboxes, after school or those times when only a snack will do!
Healthy & Whole is a proudly Australian made and owned brand. Made from all natural ingredients, in delicious flavours and packed full of gut healing nutrients. Gluten free, soy free and dairy free, high in protein and immune boosting ingredients.
Gut friendly wholefoods for and fruits and vegetables make up these delicious snacks. Gut friendly foods make for better sleep, mood, metabolism and feelings of fullness.
A healthier gut makes a healthier human.
What our customers are saying!
Wowsers, I can highly recommend these gluten free and low allergen cake mixes from Summer Hill Pantry - so tasty and SO easy!

Rachael
Love these all natural fruit sprinkles and sparkles …😍

Ebony
These are 👌👌and healthy too, …. And soooo easy - let the little hands do all the work

Pip
These products are beautifully packaged and are amazingly delicious. Plus I can get the fruity taste in my baking without all the carbs

Megan
100% Australian Made and Owned