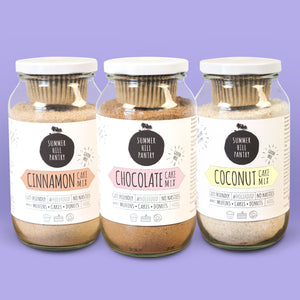 Summer Hill Pantry's gluten free, low allergen cake mixes are hand crafted with the finest, minimally processed ingredients for nutritious convenience with no added nasties and that home cooked taste every time.
Pack includes:
1 x Chocolate Cake Mix 400g Jar with Patty Pans
1 x Cinnamon Cake Mix
400g Jar with Patty Pans
1 x Coconut Cake Mix 
400g Jar with Patty Pans
Each 400g jar makes 12 x cup cakes or 1 x 20cm cake.
Made with Australian grown stone-milled sorghum flour, a nutritionally dense ancient grain that has a low glycemic index, and is high in fibre, antioxidants and B vitamins. 
Boosted with gut friendly tigernut flour - high in prebiotic resistant starch, as well as protein rich sunflower and chia seeds. 
No added colours, flavours, preservatives, gums or refined starches. 
Quick and easy to prepare with only a few additional ingredients. Great on their own or the perfect base to create delicious muffins, cakes and donuts with your favourite additions. Check out our recipe page for ideas.
Easily adapted to suit vegan and vegetarian diets with flax 'eggs'.
We pack into glass to avoid the use of single use plastic bags that are sent to landfill once the cake is made. We offer our Wholefood Cake Mixes in 800g bulk packs that are packed into biodegradable paper bags - perfect for refilling and reusing your jars.